Paris-Roubaix 2013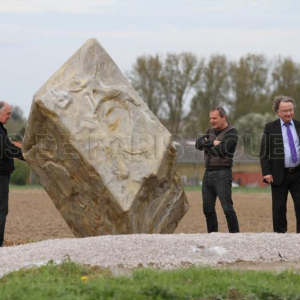 Le dimanche 7 Avril 2013 a eu lieu la 111e édition de la course cycliste, surnommée « l'enfer du Nord » : Paris-Roubaix. Et c'est à Templeuve que l'on aperçut le plus gros pavé du monde! Lorsqu'ils passèrent sur le tronçon pavé, pas sûr que les coureurs aperçurent l'immense caillou, concentrés qu'ils furent à éviter de déraper ou crever sur les plus petits gabarits sous leurs pneus. Mais les spectateurs, eux, purent admirer ce qui se révèle être le plus gros pavé du monde, à en croire son créateur, Renaud MASQUELIER. Ce pavé, fait de fibre de verre et lourd de 120 kilos, frôle le mètre cinquante sur chaque face, ce qui en fait un sacré morceau, loin devant la concurrence. Copie quasi-conforme du pavé taille réduite que l'association les Amis de Paris-Roubaix a offert au maire, Luc MONNET, l'an dernier. Il fut repéré de loin par les hélicoptères de la course et passa en direct sur des millions d'écrans de télévision. Une grande fierté pour Renaud MASQUELIER, heureux de « laisser une trace », la sienne, sur un parcours plus que centenaire. Venu découvrir l'immense pavé, Christian PRUDHOMME, directeur de la course, savoure l'initiative à sa juste valeur. « Y adjoindre un autre élément marquant ne peut être que bénéfique, c'est aussi important pour l'animation du Paris-Roubaix ! »
This Sunday, April 2013 7 held the 111th edition of the cycling race, known as the "Hell of the North" Paris-Roubaix for a distance of 254 km. And it is Templeuve we saw the biggest block in the world that sits at the foot of Mill Vertain! When they passed on the pavement section, not sure riders saw the huge stone, they were concentrated to avoid skidding or die on smaller jigs under their tires. But the audience, they could admire what turns out to be the biggest block in the world, according to its creator, Renaud MASQUELIER an artist Bachy. This pad, made of fiber glass and heavy 120 pounds, touches the fifty meter on each side, making it a great piece, ahead of the competition. Virtual copy of the block size reduced the Friends of Paris-Roubaix offered mayor association Luc Monnet, last year, he just celebrated his way back to the section of the mill in the Queen of the classics, he there was eleven. He was spotted by helicopter away from the race and went live on millions of television screens. Great pride for Renaud MASQUELIER, happy to "leave a trace" his, on a journey more than a century. Come discover the immense paved Christian PRUDHOMME, race director, enjoys the initiative at its fair value. "Like many communities in the region, Templeuve is actually reallocated the race, he says, satisfied with the result. The mill Vertain is already a strong aesthetic time, a benchmark that is rediscovering each year at a time when the selection is done during the test. Y add another striking feature can be beneficial, it is also important for the animation of Paris-Roubaix! "
Interview Renaud Masquelier - Grand Lille TV
Interview de Renaud Masquelier.Emission spéciale "En attendant Paris-Roubaix"
Paris-Roubaix 2015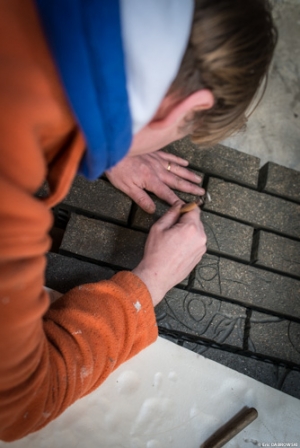 Pour l'édition 2015 de la course du Paris Roubaix, Renaud Masquelier à réalisé un ensemble de bancs en briques, avec des motifs faisant allusion à cette course. Cet ensemble de bancs est accompagné d'une stelle en mémoire, et en l'honneur des vainqueurs de la reine des classique.
https://www.youtube.com/watch?v=fEDN_K4u2xg
http://www.ville-cysoing.com/sitev2/wp-content/uploads/2012/06/OTPC-Brochure-Paris-Roubaix2015-VF.pdf
http://www.bdn.fr/les-briques-des-vainqueurs/