Biography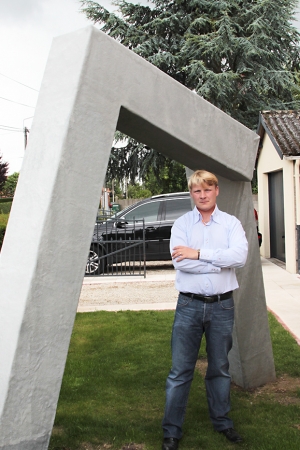 Renaud Masquelier, 40 years old, born in Lille (Northern France), where he still lives today. Painter and sculptor in full Artistic recognition, it finds its outlet in iconography, tachism, knife painting and sculpture. He creates contemporary works, using different matieriaux, giving free rein to his constant imagination.En reflection, looking for new materials to work, he designed works on canvas, cast iron, bronze, fiberglass, concrete, bricks, but also through innovative creations of unexpected materials. Currently he works for the realization of forward-looking paintings on supports worthy to receive the most beautiful paintings.
An unusual career.
During his studies of Law at the University of Paris 1, Renaud Masquelier was introduced to iconography in 1998. A lawyer by training, he has no artistic training, and over time created its own universe. His talent allows him to become a recognized artist in the arts and our Belgian neighbors already loyal buyers.
This quotation at Drouot, Artprice, Artnet ... The young artist Renaud Masquelier, builds an image, and a strong and unique artistic universe. Evolving and increasing over the years, for an artistic production quality.
 Discover this Artist Creator to original works.
Distant atavism
He was particularly attracted by the Flemish painter Georges de La Tour. On top of Iconography techniques, he also learned Knife Painting, Tachism and Conceptual Art. Tachism was a way to let his mind travel away. He noticed that men and women don't have the same perception of things while looking at the very same « tache ». Renaud Masquelier loves seeing a golf player or a sea-fish within a tache. M ore than a reflexive tool , his paintings are – to him- a way of bringing happiness to people, a sort of energy booster. Why should we say Renaud Masquelier and not just Masquelier? Because Renaud Masquelier has had his lot of torments and bliss, But also to distinguish him from his famous ancestor Louis-Joseph Masquelier known as 'the Father' (1741-1811).